Cereals 2023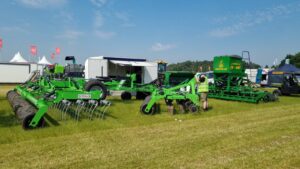 Are you interested in learning more about the latest trends in agriculture? If so, be sure to attend the Cereals – The Arable Event – taking place on 13-14th June 2023 at the Thoresby Estate, NG22 9EQ.
You will have the opportunity to learn about new technologies, products, and services that can help you improve your farming operation. We will be there at the Stand 630, ready to answer all questions about our variety of products (https://www.fentechagri.com/products/)
In addition to the exhibits, the Cereals Agriculture Show will also feature a variety of seminars and workshops. These sessions will cover a wide range of topics. Do not miss Cereals Stories Stage where agricultural influencers share their stories and insights. This year you will get a chance to hear Olly Harrison's story. Olly recently drove a combine harvester from John o'Groats to Land's End to raise awareness of men's suicide. I'm sure you'll agree it's a very important cause and we look forward to hearing all about his fantastic achievement.
For more information, please visit the Cereals website https://www.cerealsevent.co.uk/welcome
We hope to see you there!
The Fentech Agri Team